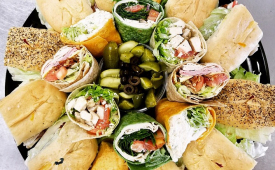 Thank you for choosing Bagel Break for your catering needs. We take pride in the quality and freshness in all that we make and serve, from our Boar's Head Bacon to our Boars Head Pickles. Also, choose from our homemade deli salads – Chicken, Albacore Tuna, cucumber-tomato or Egg Salad. Don't forget our Side Salads – our popular Potato Salad, Coleslaw and Macaroni Salad.
All of our Salads, Boars Head Meats and Cheeses are available by the pound and as for our prices, we are always less than the supermarkets and no long lines!!!
*Need items individually wrapped we got you "COVERED"
*Individual boxed lunches with your choice of sandwich, side and cookie or brownie
*Individually wrapped breakfast wraps or breakfast sandwich with your choice of bagel
*Individually wrapped bagels with your choice of cream cheese on the side
*Individually wrapped homemade cookies, brownies and our "Famous Muns"
*Don't see what you are looking for??? Just call and ask and I will be happy to work with you
 We can create any kind of Platter for your needs… ask us how we can create a customer platter to fit your needs.
"Good Morning" Platter
Your choice of assorted Bagels and Cream Cheese, our fresh made Muffns and Cinnamon Rolls, Brownies and Cookies.
Serves 8-12 – $32.00
Serves 12-16 – $40.00
Serves 16-20 – $48.00
Serves 20-24 – $52.00
Also available … Our great tasting Coffee in a box with all the fixin's
Serves 10-12 – $16.00
Our "Famous" Breakfast Wraps
What a "warm" way of saying "Good Morning" to your clients or at the staff meeting… We wrap up a delicious combination of five different wraps – Scrambled Eggs with Cheese and
your choice of Steak, Bacon, Ham, Sausage or Veggies.
$2.95 per Half Wrap.
"Western" or "Veggie" Egg Scrambles or Create "Your Own"
Serves 12-16 – $40.00
Serves 16-20 – $50.00
"Add A Tray" of Home Fries
Serves 12-16 – $30.00
Serves 16-20 – $35.00
Lox & Bagels Platter
Lox with Cream Cheese, Onions Tomato, Cappers and assorted Bagels.
$12.95 per person
Sub / Wrap Platter
Choose from our local favorites… "The Italian" "The Meat Combo" or "The Turkey Club Sub" or any of our "Famous Wraps".
Serves 8-12 – $64.00
Serves 12-16 – $96.00
Serves 16-20 – $128.00
Mini Croisant Sandwiches
Your choice of Boars Head lunch meats and cheeses or our famous homemade Tuna, Chicken or Egg Salad.
$3.50 per person
Boxed Lunch
For your next Event or Meeting.
Your choice of Sub, Sandwich or Wrap… Choice of Side… Choice of Cookie or Brownie
$9.95 per person
Quiche
Choose from Spinach, Mushroom and Swiss, Broccoli and Cheddar or the ever popular "Quiche Lorraine" …or create your own!!!
Serves 6-8 – $16.00
The Pinwheel Classic
The Perfect Finger Food… A scrumptious blend of your favorite meats and cheeses all rolled up in our flavored tortillas!
Serves 8-12 – $30.00
Serves 16-20 – $54.00
Serves 26-30 – $78.00
Homemade Salads by the Pound
As always our salads are available by the lb.
Tuna. . . . . . $13.95
Chicken. . . $13.49
Egg. . . . . . . $7.99
Macaroni. . . $4.75
Potato. . . . . .$4.75
Coleslaw. . . .$4.75
Cucumber / Tomato….$4.75
Fruit Salad Bowl.. . . $4.75
Assorted Boars Head Cheeses
Serves 8-12 – $30.00
Serves 12-16 – $40.00
Serves 16-20 – $50.00
Alway's Popular… Veggie Platter
Serves 8-12 – $25.00
Serves 12-16 – $35.00
Serves 16-20 – $45.00
For the "Perfect Ending"
An assortment of our homemade cookies and brownies
Serves 8-12 – $20.00
Serves 12-16 – $26.00
Serves 16-20 – $32.00
Serves 20-24 – $38.00
Homemade pies and cheesecake's by request.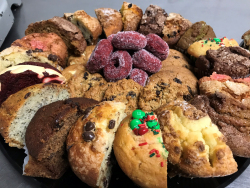 *Prices subject to change